Partner with us
The many generous organisations and individuals who partner with us every year empower us to continue to fight for our vision, "Lives Unaffected by CF".
Cystic Fibrosis WA (CFWA) welcomes volunteering, sponsorship, fundraising and skill sharing partnerships that build relationships and strengthen the goals of both organisations.
Why Work With Us?
A partnership with CFWA is a great way to foster team dynamics, increase employee morale, fulfil your corporate social responsibility and build a strong community connection through a mutually beneficial relationship.
Our team will work with your organisation to develop a unique partnership with you.
How To Get Involved
We recognise that every organisation has different goals for community involvement. We are ready to work with you to achieve the best outcomes for both organisations. Together we will make a difference for people living with cystic fibrosis (CF) in Western Australia.
To discuss how your organisation can get involved with CFWA please get in touch with our Fundraising Manager via email (marketing@cfwa.org.au) or on 08 6224 4100.
Sponsor a Program
At CFWA our service delivery is built around maintaining the physical and mental health of people living with CF and their carers. Programs address all stages of life from newborns to adulthood and include; home care support, education, regional support, equipment subsidies and counselling. Along with research funding our programs continue to make advances that improve quality of life and life expectancy.
We recognise that major gifts through sponsorship of our programs can make a huge difference to the quality of our services. Contact our Fundraising Manager via email (marketing@cfwa.org.au) or on 08 6224 4100 if you have questions or would like to discuss how you can support a services program.
Become an Event Partner
We run two major fundraising events each year, alongside supporting many dedicated community fundraisers. These events aim to create awareness and raise funds to support our service programs and fund research.
65 Roses Day
Our premier fundraising and awareness event culminates our month long 65 Roses Campaign. 65 Roses Day sees our members, volunteers and partners working together across WA to spread the CF message and raise funds through the sale of roses.
CFWA welcomes partnerships including; financial sponsorship, pro bono marketing, promotional and logistical support, volunteering, and prize donors.
For more information on how to get involved please contact the Fundraising Manager via email (marketing@cfwa.org.au) or on 08 6224 4100.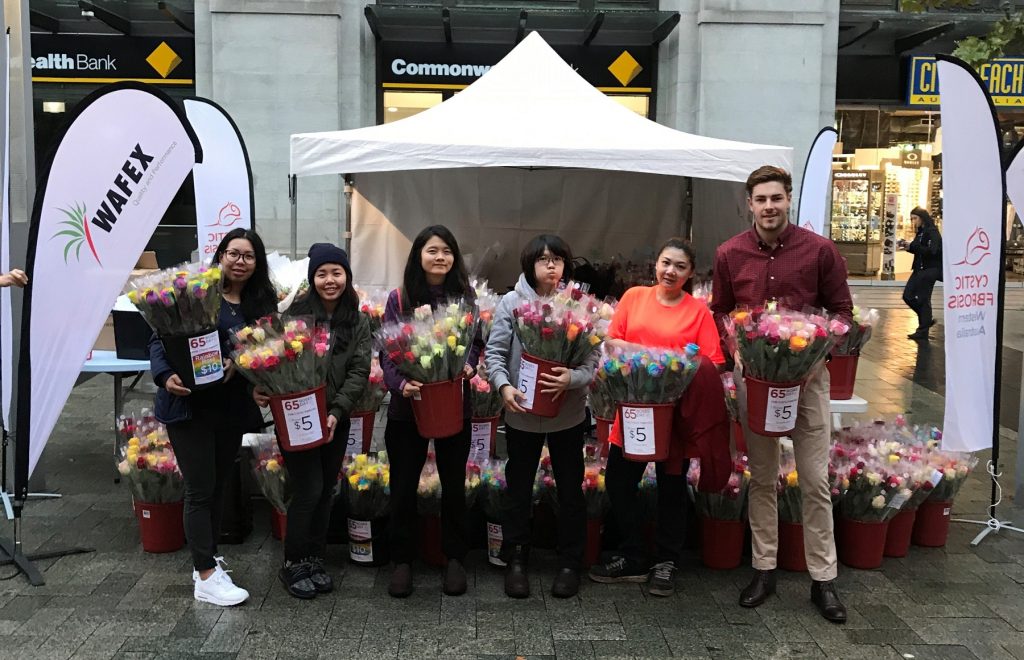 George Jones Foundation Cystic Fibrosis Golf Classic
CFWA, with the generous support of a volunteer committee and the George Jones Family Foundation, hosts the annual Cystic Fibrosis Golf Classic. This fantastic day of Ambrose golf at the prestigious Lake Karrinyup Country Club is followed by an evening of entertainment.
CFWA welcomes team sponsorship and participation along with the donation of auction and raffle items to help us achieve our fundraising goals.
Third-Party events supporting Cystic Fibrosis WA
CFWA participates in many third-party events. Collaboration with other not for profit and service organisations allows us to broaden our message and work with like-minded organisations to achieve great outcomes for both organisations.
CFWA is a nominated charity for many public events including HBF Run for a Reason, City to Surf and Colour Run. We encourage organisations to participate in public events and fundraise on behalf of CFWA. CF ambassadors and CFWA staff are available to speak with your team to ensure engagement with our organisation.
Visit our Events Page to see where your organisation can support Cystic Fibrosis WA.
Community Fundraisers
CF impacts people in all parts of our community, including regional and suburban areas. We appreciate and welcome the opportunity to support our CF community through organisations, service groups, schools and community groups who fundraise on our behalf.
We can facilitate your organisation's involvement in one of our fundraising campaigns like the 65 Roses Challenge, Crazy Hair Day or Serve it Up for CF, or individual community fundraisers. See our upcoming events calendar for the latest updates.
Volunteering
As a small organisation, CFWA relies on our fantastic volunteer team to help achieve our goals. We welcome volunteering at our events and in our office on key projects and programs through skill sharing.
Volunteering can be as easy as your staff signing up individually as volunteers, or arranging a team activity like 65 Roses Wrapping Day or 65 Roses Day.
Workplace Giving
CFWA welcomes the opportunity to work with your payroll team to provide your employees with the facility to make regular donations from their regular pay.
In-Kind Donations
Donations of products and services are greatly appreciated by CFWA.
This could be the gift of goods or services to use as an auction or raffle item at one of our fundraising events, products for our hospital boredom buster bags or contributing to office consumables and services to help us reduce costs. All of these in-kind donations assist us in providing support and services to people living with CF.
Your commitment will help us continue to improve the lives of our CF members and work towards our vision of 'Lives Unaffected by CF'.
To discuss opportunities to partner or volunteer with us please contact our Fundraising Manager via email (marketing@cfwa.org.au) or on 08 6224 4100.