Bringing up a child with cystic fibrosis (CF) can raise many questions because CF affects many aspects of you and your child's life. We are here to help you and can provide services and resources to support you throughout your journey.
See our Guide to Services for Families and Children brochure for an overview of our services.
Treatment
Airway Clearance
Airway clearance, or chest physiotherapy, is needed to remove thick, sticky mucus from the lungs to prevent lung damage. It is usually started as soon as your child is diagnosed with CF and continues twice a day on an ongoing basis.
Toddlers and young children can be particularly challenging when it comes to airway clearance which is why it is so important to create a good routine from diagnosis.
Airway Clearance for children may change over their lifetime, however may include:
We have a Homecare Worker (HCW) service to enable ongoing support in the home with airway clearance and exercise routines. See Home and Hospital Care for more information.
Exercise
Exercise is considered a key aspect of treatment for people with CF, with improvements in lung function, strength, fitness levels and overall quality of life.
Our HCWs can assist your child with goal setting, motivation and assistance with exercise, with a program specifically developed for them by their hospital care team. We also have a Personal Trainer (PT) program in the southern suburbs. This service can be accessed by referral from your child's CF team. See Home and Hospital Care for more information.
We also have an annual Equipment Subsidy to assist with purchasing exercise equipment. See Subsidies and Equipment for more information.
For quick information, we also have a range of factsheets relating to exercise, including:
Nutrition
Diet plays a very important role in the management of CF. In fact, nutrition is so important that a healthy body weight can be linked to better lung function. We have a range of resources available to help you manage your child's diet.
Our CFFood resources provide detailed information about CF and diet. You may be interested in:
The CFCooking program has a range of healthy recipes and cooking demonstration videos, featuring people with CF, on topics including:
For more information, we have the following downloadable factsheets relating to nutrition:
We also have the following video from our 2013 Dietary Expo:
Medications
Having CF means your child will be on lots of different medications. Common medications include enzymes, bronchodilators, mucolytics, antibiotics, anti-inflammatories, salt and vitamins.
These medications may be given orally, intravenously, inhaled through a nebuliser or other inhalation device. For more detailed information about CF medications, check out our factsheets on:
We also have a nebuliser loan scheme to assist during periods of increased antibiotics and other medications. See Subsidies and Equipment for more information.
Infection Prevention and Control
People living with CF are at greater risk of getting lung infections than those who don't have the condition. That's because the thick, sticky mucus builds up in the lungs, allowing germs to thrive and multiply. Germs can spread either by direct (person-to-person) or indirect (surfaces) contact, or by air. Fortunately, there are steps that people with CF, their families and caregivers can take to avoid germs including good hand hygiene and avoiding people who are unwell.
Individuals with CF also need to avoid contact with other people with CF. This is because they are at particular risk of spreading certain germs among others with the disease. This is referred to as cross-infection.
Pseudomonas is a key bacteria that is spread amongst individuals with CF. See our resources on Pseudomonas:
Our Good Clean Hands resource is a 3-minute video suitable for children aged 3-8, all about hand washing and ways to minimise spreading germs.
Mental Health and Wellbeing
CF can impact on the mental health of both the child, and their family members. Anxiety and depression are common due to the ups and downs of living with a chronic illness. If you or your partner are struggling, our social worker can provide support. See Counselling and Support for more information.
If you think your child is struggling with any aspect of CF, you can get a referral to the social worker or psychologist at Perth Children's Hospital (PCH). PCH also have a program, KKind (Keeping Kids in No Distress), designed to minimise trauma, anxiety and distress caused by illness, injury and being in hospital. They have the following factsheets:
See Child and Adolescent Health Services for more information.
If your child struggles with anxiety around medical procedures, you might like to read our Procedural Anxiety factsheet.
Comorbidities
Cystic Fibrosis Related Diabetes
Some children with CF will be diagnosed with Cystic Fibrosis Related Diabetes (CFRD) due to damage to the pancreas over time.
Children will be tested annually from aged 10 at the PCH clinic for CFRD, or earlier if required.
Continence
Many people, including children, living with CF can experience continence issues.
Bone Health
Many people with CF can experience thinning of the bones at an earlier age than the normal population.
Education
Our CFSmart education program provides a huge range of resources about CF for teachers, parents and students.
Our Education Officer can provide CF education sessions to schools, including teachers, parents and/or students. They can also provide education to extended family members and community groups. See Education and Training for more information.
We produce an annual child's magazine called ROZEE. This magazine provides CF education and inspirational stories aimed at young children with cystic fibrosis and their siblings.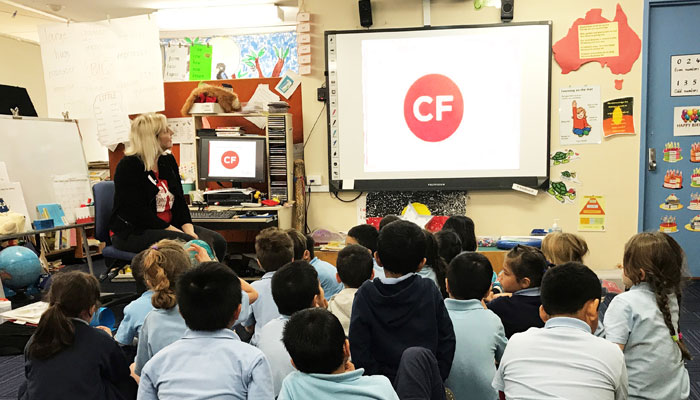 Financial Support
Having a child with CF entitles you to access various subsidies. See the Subsidies and Equipment page for more information. You can also contact our Social Worker via email ( servicesmanager@cfwa.org.au ) or phone 08 6457 7333 to discuss any financial issues or queries.
Carer Support
Having a child or sibling with CF can sometimes feel very lonely. We offer respite and support events during the year that you and/or members of your family can attend. These events are designed to help you build support networks with other parents and carers. See Member Events for more information.
As a carer, you are also entitled to access a range of support services and financial assistance.
Check out our factsheets on carers for more information:
Travelling with Cystic Fibrosis
Travel takes planning, however travelling with a child with CF can involve extra organisation to ensure the trip goes smoothly.
Our Social Worker may also be able to provide advice around insurance, please contact them via email (servicesmanager@cfwa.org.au) or phone 08 6457 7333 for more information.