Congratulations on the birth of your new baby. Having a baby diagnosed with cystic fibrosis (CF) can raise many issues for families. We are here to help you throughout your journey and can provide services and resources to support you along the way.
About Cystic Fibrosis
CF is an inherited genetic condition. Every four days a baby is born with CF and around 1 in 25 people in Australia are carriers of the CF gene. If both parents pass on the CF gene, the baby will have CF. People with CF have thick, sticky mucus which affects the lungs and digestive system. See What is Cystic Fibrosis for more information.
Newly Diagnosed Pack
Our Cystic Fibrosis WA (CFWA) support pack will be presented to you by the staff at Perth Children's Hospital (PCH) soon after your diagnosis. It contains information about CF and the services we provide here at CFWA. The pack includes: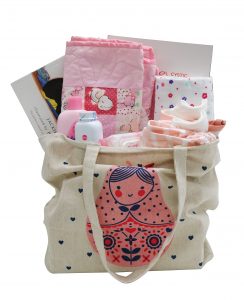 Newly Diagnosed Services at Cystic Fibrosis WA
Support is available via phone or email or in the comfort of your own home. We have nursing, physiotherapy, social work and counselling services that you can access to talk through your feelings or help set up a routine to care for your new baby.
We have a Homecare Worker service to enable ongoing support in the home with routines and nebulisation, along with a nebuliser gifting program in consultation with Perth Children's Hospital.
Our Education Officer can also provide CF education for extended family members to assist in increasing awareness and understanding of CF.
See A Guide to Services For: Families and Children for information about all our services.
Treatment
There are many different treatments for CF, and each baby will have their own individualised plan from the team at PCH. Treatment for CF may include the following:
Antibiotics to prevent or treat infections
Airway clearance, or chest physiotherapy, to help clear mucus from the lungs
Salt and vitamin supplements
Enzymes to assist your baby with weight gain (if required)
Airway Clearance
Airway clearance is needed to remove thick sticky mucus from the lungs to prevent lung damage. It is usually started as soon as your baby is diagnosed with CF and continues twice a day. Practicing daily airway clearance from diagnosis creates a good routine and develops the skills necessary for use when signs of infection are present.
Airway clearance for infants may include:
Modified Postural Drainage and Percussion: patting with a cupped hand or fingers on your child's chest in different positions, to loosen and clear mucus.
PEP (Positive Expiratory Pressure) mask: positive pressure helps keep airways open, so mucus can be cleared more easily.
Active Play: It is very important that physical activity is encouraged in babies and young children. Activities such as bouncing on a ball or on your lap, rolling, tickling and belly laughing are all things you can do with your baby from a young age. As your baby grows, more activities can be introduced.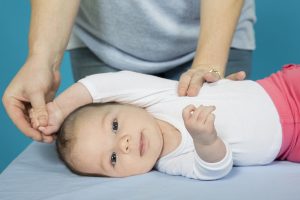 Nutrition
Diet plays a very important role in the management of CF. In fact, nutrition is so important that a healthy body weight can be linked to better lung function. In approximately 85% of babies with CF, the pancreas does not work properly, making it difficult to digest food and gain weight. If this is the case for your baby, enzyme supplements will be prescribed to help them absorb the calories and nutrients from their food. Your CF dietitian from PCH will advise you on the dosage of enzymes and how much and how often to feed your baby.
Our A Guide for Feeding Infants booklet will provide further information to help you manage your baby's diet.
For more information about our Newly Diagnosed Program, please contact our Services Manager via email (servicesmanager@cfwa.org.au) or on 08 6457 7333.