CFWA 2022 Sponsors and Volunteer Awards
On Friday night we held our annual Sponsors and Volunteers evening. Thank you to everyone who came along, it was an absolute pleasure to present the awards to our deserving recipients, and acknowledge the dedication of all our supporters throughout the year.
Supporter of the Year Award
This year we wanted to acknowledge two very special supporters who have made our annual 65 Roses Day such a successful event.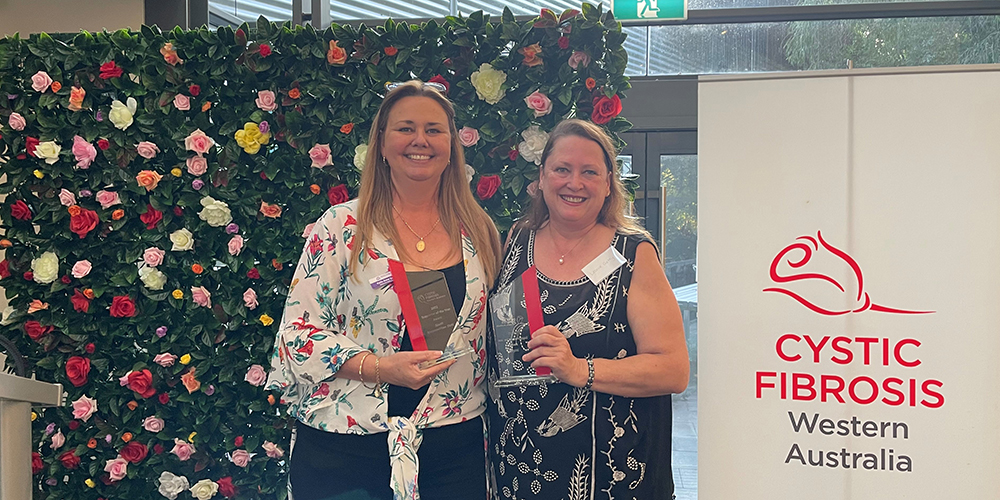 Pictured: Kylie-Anne Stokes from South Metropolitan TAFE with Leonie Getty from Wafex.
Supporter of the Year: Wafex
65 Roses Day simply wouldn't be possible without this terrific organisation. Wafex have been supporters of 65 Roses Day since the beginning and next year we'll be celebrating 15 years of this partnership. Not only do they give us a substantial discount on the roses but they also give us a large amount for free. On top of that, they provide significant staff support free of charge including creating the magnificent bouquets, providing delivery drivers and doing additional deliveries for us to name a few. We'd like to especially thank Cassie from Wafex, who pulled out all the stops to ensure we had enough fresh roses to sell and went above and beyond as we rode the COVID wave once again.
Another organisation that truly makes 65 Roses Day possible is South Metropolitan TAFE. Under the leadership of Kylie-Anne Stokes, Ben Tan and Elissa Pietras the Diploma of Events Management Students and Certificate of Events Management students coordinate the selling of roses at shopping centres and other locations across the Perth metro. Kylie-Anne and her students understood how significant the roses were to 65 Roses Day and how important it was to raise funds and awareness for CF. She coordinated her students to wrap their own roses at the SM TAFE campus to ensure 65 Roses Day still went ahead as planned. We are grateful for the TAFE students going above and beyond this year, wrapping over 1,500 roses, selling merchandise and roses and raising over $17,000 across 11 sites.
Fundraiser of the Year: Haydee Carmen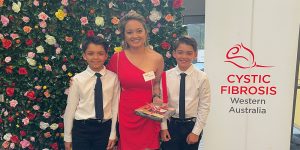 For the past five years Haydee has worked tirelessly to raise funds and awareness for cystic fibrosis in Mandurah and the surrounding areas. She has taken it upon herself to rally her local community to support 65 Roses Day by way of selling beautiful roses and merchandise in their businesses or supporting in other ways. She approaches local lifestyle villages, schools, car dealerships, pharmacies, and cafes to get involved and any other business local she can think of!
She tirelessly coordinates all this herself including the delivery of the roses to all the businesses and also sells roses herself at her children's school and collecting of all the funds and returning of equipment after. She also arranges for the Mandurah Bridge to be lit up red for 65 Roses Day as well as other local landmarks.
Volunteer of the Year: Ron Gray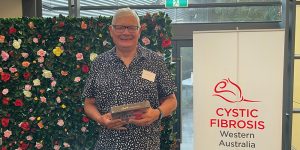 Ron, our superstar volunteer, has given over 400 hours this year alone. He manages our collection tins and has travelled over 5,000 km in 2022, averaging around 80km a day.
In addition, he comes in and helps out whenever he is asked in the lead up to our major campaigns like 65 Roses Day and the John Gillard Family Cystic Fibrosis Golf Classic.
He has over 210 collection tins in Perth and surrounding suburbs, and has recently broke the record of the most collection tins put into news businesses in one day… 24 in one day!
This year he raised over $13,000 through his collection tins!
Long Service Award: Eric & Ronnie Gard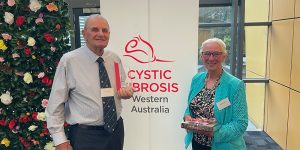 Eric and Ronnie Gard have been supporting CFWA in a large variety of ways since 2008. In 2011, they charged participants a registration fee to partake in a Canning Stock Route 4WD Safari which they organised and covered the trip's expenses. The result was a fundraiser which raised over $39,000 that funded our second ever PhD Top Up Scholarship. In 2014, they cycled from Lands End to John O'Groats in the UK (a distance of some 1,200 km) collecting donations along the way. From that time on, they've continued to fundraise whilst informing the community about CF, including; selling books and donating the proceeds; donating fine collections and auction proceeds from the Over 55 Cycle Club, and most recently donating the proceeds from bottle and tin can recycling collections from a very supportive community. So far this year, their total donation from these recycling collections amounts to a whopping $9,417 – that's nearly 100,000 bottles and tin cans!
Lappa 65 Roses Spirit Award: Laura Currie
Laura was inspired by her son Luca to raise awareness and funds for CFWA. In February this year she took on the mammoth task of coordinating and participating in a 25km walk along the coast from Cottesloe to Hillarys. She organised personalised t-shirts and a celebratory party at the end complete with a DJ and a rose flower wall for photos. There was an army of people in red walking with her along the coast and cheering at the finish line. Thanks to Laura's passion for the cause and friends and family spread across the globe she also coordinated a walk in Scotland on the same day. While Laura and her crew sweltered on their walk here in Australia the crew walking in Scotland were far more warmly dressed in their red outfits but still had the same enthusiasm. Laura and everyone on Team Luca raised just shy of $11,000!
Special Acknowledgments: Caz Boyd
We also made a special acknowledgment of Caz Boyd's contributions. Caz has recently finished her tenure as President of the CFWA board and continues to be a major supporter of CFWA and advocate in the CF community; sitting on the board of CFWA and CFA and various consumer advisory and hospital committees. Thank you for your continued support Caz!
---