How you can get involved
May is the national cystic fibrosis (CF) awareness month, and Friday 24 May is 65 Roses Day, our day of CF awareness.
Every year, on 65 Roses Day, we paint Western Australia with beautiful fresh roses to raise funds and awareness for people living with CF. The funds raised from these fundraising events help support our vital services programs and research funding for children and adults with CF in Western Australia.
Join us this 65 Roses Day, Friday 24 May 2019 to raise awareness and funds for CF!
How your money helps
Your support this 65 Roses Day will enable us to provide essential support services and critical research funding to improve the lives of people living with cystic fibrosis in Western Australia.
Little Rosie Posy ($35)
Gifting a Little Rosie Posy could provide a hospital pack to help someone with CF during a long hospital stay.
"65 Roses" Bunch ($65)
Giving a "65 Roses" Bunch could supply a newly diagnosed kit to a family during a difficult time.
25 Roses ($125)
Selling 25 roses in your workplace or school could provide a physiotherapy session to someone with CF.
50 Roses ($250)
Selling 50 roses could fund a piece of equipment for someone with cystic fibrosis, to help them breathe easier.
Why 65 Roses?
The reason we use the 65 Roses theme for our national day of awareness started in 1965.
Mary Weiss became a volunteer for the Cystic Fibrosis US Foundation in 1965 after learning that her three little boys had cystic fibrosis (CF). Her role was to call social clubs service organisations to seek financial support for CF research.
Mary's young son Richard (pictured left) listened closely to his mother as she made each call. After several calls he came into the room and told his Mum "I know what you are working for". Mary was shocked as the four-year-old Richard did not yet know that he had CF.
With some apprehension, Mary asked Richard. "What am I working for Richard?" "You are working for 65 roses" he answered. Mary was speechless.
"Yes Richard I'm working for 65 Roses"
This true story is the reason why the Australian Cystic Fibrosis Organisations use the rose in our logo, and the 65 Roses theme during the May, the month of cystic fibrosis awareness.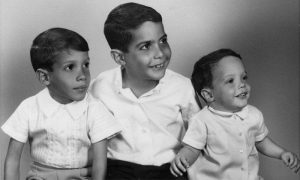 Our 65 Roses Partners
65 Roses is made possible with the help of hundreds of volunteers and some very generous supporters. Thank you! Visit our 65 Roses partner page to find our how your organisation can support people living with CF.