CF Kids Connect is a safe, online program for kids with CF to connect and participate in group activities. Sessions are facilitated by our child and family therapist, Mel and are available to children with CF aged 6+. 
Groups are kept small and are broken down into similar age groups so that content is relevant, safe and appropriate. Each session has a different theme such as Lego, playdough, baking, movies, show and tell and more! The sessions aim to build friendships and connect kids living with CF across WA.
Term 3 Planner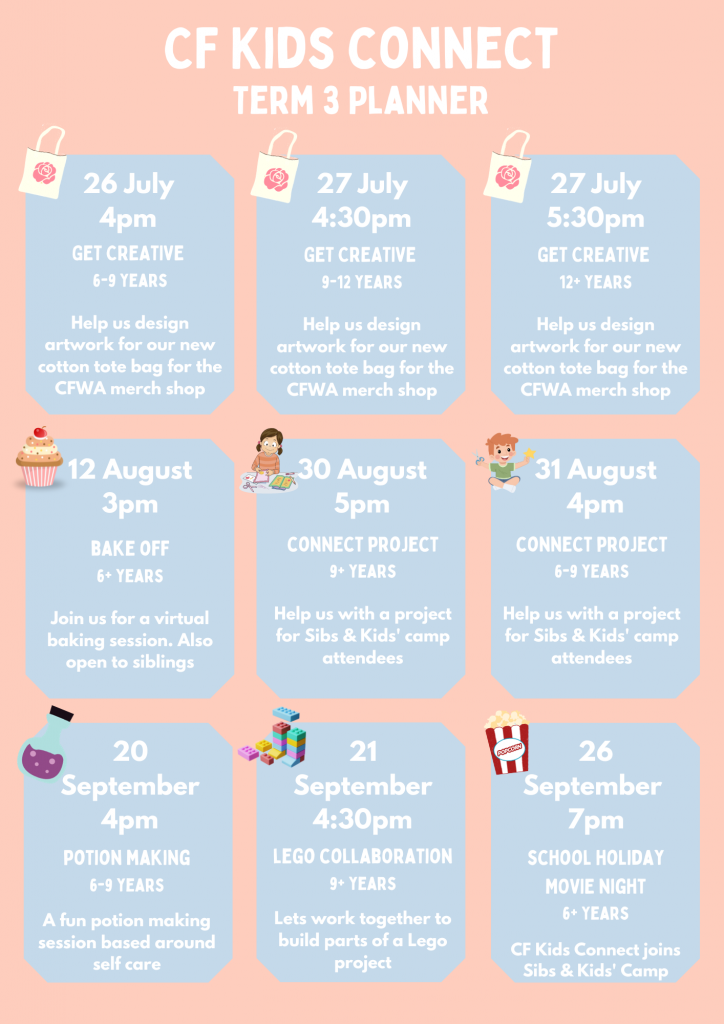 Feedback
"Today my daughter spent an hour online with 3 other children with CF. This was the first time she participated and she loved every minute of it. They spent the time creating things out of clay, chatting about school and what they've been up to and even physio and nebulisers.
Watching her with these kiddos made me feel really emotional. I've met all their parents and I know when they're sick. These kids understand. My daughter isn't alone and hopefully she knows it more than ever now she participates in these online catch ups. I hate that they all have CF, but I am so grateful for CFWA and how they support us" (feedback from parent in CFWA community).
Find Out More
If you or your child child would like to find out more about our CF Kids Connect program, or RSVP to a session, please get in touch with Mel (mel.tibbitts@cfwa.org.au).