Sandie's Life is Easier with Telehealth
Sandie Smith's life is constantly interrupted with medical issues and specialist appointments, because she lives with cystic fibrosis (CF).
Since her diagnosis 12 years ago, the Albany mum has had constant trips to Perth to see medical specialists, but in recent years her life has become easier thanks to the availability of telehealth.
Healthcare delivered closer to home is under the spotlight this week as part of Telehealth Awareness Week, 25–29 June.
The week has been organised by the WA Country Health Service and its service partners to highlight that healthcare appointments delivered by telehealth are now widely available to country patients, without the stress and cost of travel.
In years gone by, Sandie would regularly have to take several days off work and spend days organising paperwork in order to see her specialist team in Perth – but now she uses her lunch break to pop into Albany Health Campus where she holds a videoconference with the Adult Cystic Fibrosis Service at Sir Charles Gairdner Hospital (SCGH).
"Having constant medical appointments in Perth just cripples your life," she said."Using telehealth really allows you to get on with your life."
"Now I can do my lung test at Albany Health Campus and the specialist team in Perth have my results by the time I have my telehealth appointment," she said.
SCGH senior physiotherapist Jamie Wood said the cystic fibrosis clinic started using telehealth because patients were so tired of traveling that they simply didn't attend clinics the four times a year that is required to keep on top of their condition.
Jamie said people with CF lived with a life-long condition and it was essential they attended regular appointments with their specialist team, to maintain their health.
He said not attending appointments could impact on their clinical outcomes, as well as their productivity.
"With telehealth we can offer more patient-centred care, and can actually meet the clinical and the social needs of our patients," he said. "Luckily WA has great telehealth infrastructure and we have been able to connect with our patients without making them travel away from work and family."
Telehealth Awareness Week includes the launch of a 1300 number for telehealth inquiries, a statewide regional advertising and social media campaign, new information materials for patients and healthcare professionals, and displays in hospitals and health centres across the State.
People can enquire about having an appointment by telehealth by asking their health professional or calling 1300 367 166. More information about telehealth is available at www.healthywa.wa.gov.au/telehealth
Do you have a good telehealth story? Share it on your favourite social media channel with the hashtag #telehealthwa
Telehealth Facts
• Telehealth saved WA country patients from travelling 27.3 million kilometres in 2017 – that's about 12,500 return trips across the Nullarbor, or 35 trips to the moon and back.
• About 350 outpatient appointments are delivered every week by telehealth at more than 150 telehealth-enabled sites across WA.
• In 2017, there were more than 18,000 outpatient consultations by telehealth across country WA, a one-third increase on 2016.
• More than 30 outpatient specialties delivered via telehealth are now available closer to home for country people. The top five in 2017 were plastic surgery, respiratory medicine, haematology, orthopaedics and gastroenterology.
• Health services delivered by telehealth include emergency care, cancer treatment, palliative care, mental health, stroke emergency treatment and rehabilitation, surgical follow-up and education for chronic conditions such as diabetes and asthma.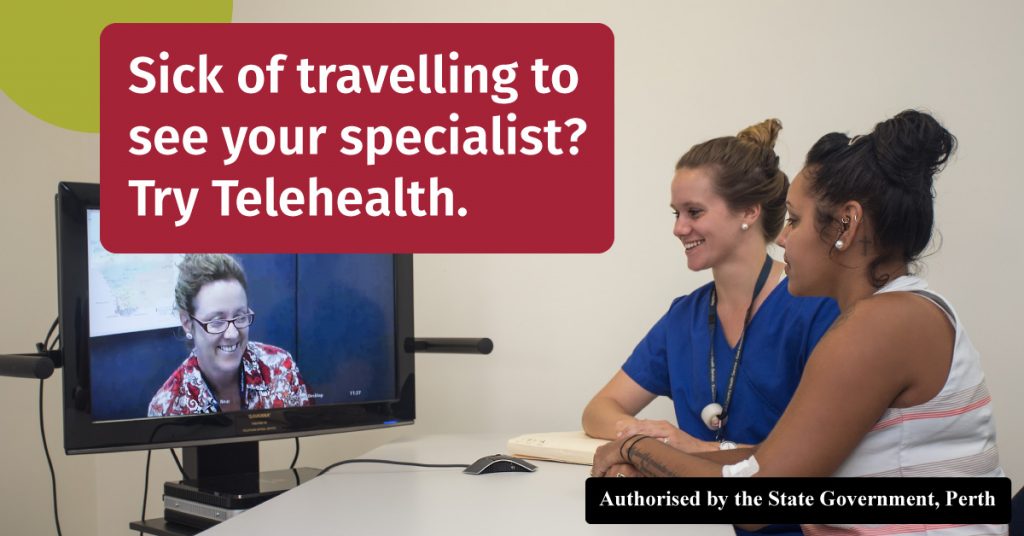 ---