Meet CFWA Board Member, Amanda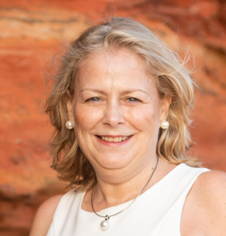 Amanda is a 50+ year-old woman with cystic fibrosis. Born in an era when CF treatments were minimal, she has defied the odds in becoming a Registered Nurse, living in some of the most remote Aboriginal communities in the Kimberley and Pilbara region for 20 years.
Amanda has significant experience in woman's and sexual health, hepatitis/HIV and public health. She is a passionate advocate for the CF Community, sitting on a variety of CF and Respiratory Committees.
She brings to CFWA a personal perspective around CF, including issues that may arise living in rural or remote communities; as well as a lived understanding of CF health issues, systems and practices; particularly pertaining to CF patients, family, and partners.
"Hi all, I am pleased to have recently joined the CFWA Board late last year. As well as my usual Director duties, my role on the board is to represent people and families with CF. I also Chair the Adult CF Consumer Advisory Committee. Please feel free to contact me if you would like to discuss any topics you think the CFWA Board or the Committee can assist with."
CFWA Board
For more information about the CFWA Board, see our Board page.
Board Enquiries
For all board enquiries, please contact CEO Lisa at lisa.bayakly@cfwa.org.au or on 08 6224 4100.
---