Albany Evening with CF Scientists
You are invited to attend the 2020 Great Southern cystic fibrosis research update and outreach evening
Guest speaker Associate Professor Anthony Kicic from Telethon Kids Institute will provide an overview about his breakthrough research in bacteriophage (phage) therapy.
Phage therapy is a unique way to treat anti-microbial resistant microbes which are becoming a common and significant global issue. Anthony's research focuses on how it's delivered successfully to CF airways.
Event Details
Presentation: I hate to love you, but I love to hate you: using specialised viruses to treat antibiotic resistant bacterial lung infections in CF
Date: Wednesday 8 April 2020
Time: 6:00pm – 8:30pm for 6:30pm start
Venue: Le Grande Albany
Drinks and dinner provided. This event is FREE, thanks to generous support from Telethon. Please note, RSVP is essential for catering purposes.
To RSVP contact Kathryn at servicesmanager@cfwa.org.au or on 08 6457 7333.
If you have CF, please be aware that there may be other adults with CF at this event. We request that you follow standard cross infection guidelines, for further information visit www.cfwa.org.au/about-us/annual-reports-policies
Associate Professor Anthony Kicic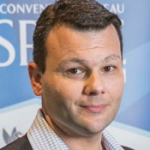 Associate Professor Kicic completed his undergraduate and doctorate degrees at the University of Western Australia, specializing in Molecular Biology and Cell Biology. His current research program focuses on the role of the cells lining the airway called epithelial cells in a number of diseases settings including childhood asthma, cystic fibrosis and lung transplant rejection.
He has developed a model of the airway in the laboratory for these diseases, using patient derived cells. Using these models, Anthony and his team have been able to investigate how bacterial infections establish in the lung, form biofilm and develop antibiotic resistance. Importantly, recent work is investigating how these can be treated with specific viruses called bacteriophage.
---