COVID-19 Member Support
As life slowly returns to normal, we at CFWA are excited to get back into the swing of things.

CFWA remains open and we are gearing up to be back at full operational capacity as restrictions are further eased. Here is some information about changes to our services, and how we have adjusted our programs to meet member needs during this time:
Visiting the Office
If you need to collect something from us or visit the office, please ring ahead on 08 6457 7333 to make an appointment.
There is always someone in the office to assist you during our opening hours, and CFWA staff have slowly begun returning to work from the office, rather than working from home.
Homecare Worker (HCW) Service
Our HCW service is still available to anyone who would like visits, even if you haven't used this service in the past. Our HCWs have always followed very strict infection prevention and control guidelines and this has increased even more to protect you and your family. HCWs now wear full personal protective equipment including mask, gown and gloves to all home visits. There is also the option of virtual or remote HCW sessions for either adults or children, if your child is old enough. This is a good option for both our metro and regional members.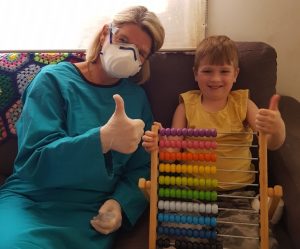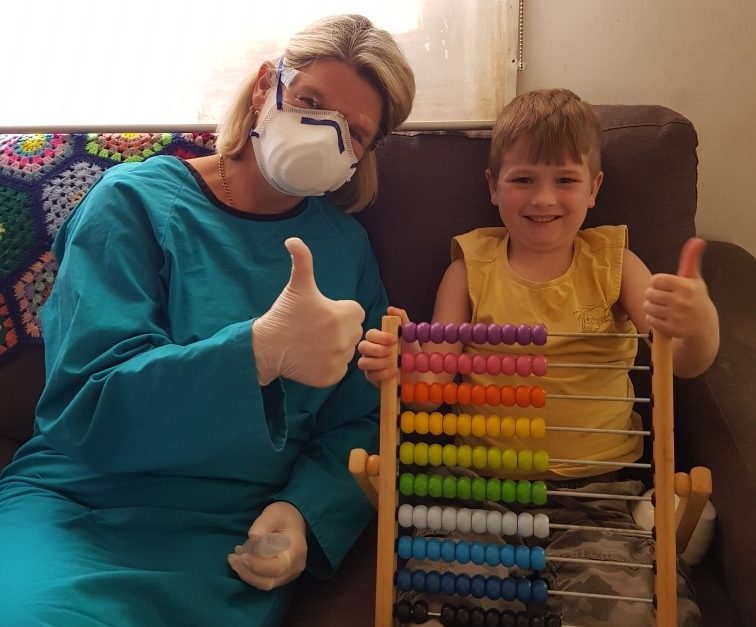 If you have any questions about how the HCW service might be able to help you, please email Sam on physio@cfwa.org.au or call us on 08 6457 7333 to discuss.
Counselling and General Support
Mental Health Support
Please contact Kathryn for counselling or general support via email servicesmanager@cfwa.org.au or on 0419 926 277. Support is available over the phone or via video call. Our Youth Social Worker Haylee is also available to support young people. Contact her on socialworker@cfwa.org.au.

If you require further support, you can access a clinical psychologist via Telehealth, which the government announced will be bulk billed with your existing or new mental health care plan from your GP.
For further information on Mental Health Care Plans and Rebates, click here.
Hospital Support
Until restrictions are further lifted, we are currently unable to provide hospital visits. Hospital care packs are now able to be dropped to PCH and delivered to you by your respiratory team. Please contact us on 08 6457 7333 if you require further support.
Exercise Support
CFWA Activity Subsidy (16+ years)

Activity subsidies for gym or personal training are available up to $300 per quarter. Click here for more information and to access the online form.
CFWA Children Activity Subsidy
Activity subsidies are available for children up to $200 per year or $50 if you are eligible for Kidsport. Click here for more information and to access the online form.
Free F45 Online Classes
F45 Cannington are offering FREE online live classes for ALL adults with CF. F45  have dedicated and qualified coaches who provide individualised attention, giving members advice on technique, alternatives for those with injuries or exercise limitations due to health conditions. All exercises can be done without equipment and there are options for those who may have equipment.
Workouts are done via ZOOM. You get to see your coaches and fellow members through the screen. Laptop or computer is preferred but it also works on your tablet or phone.
How to Register
You need to ensure you have downloaded the F45 Training App for easy management of your class schedule. You will need to create a profile and choose a correct studio. Then fill out pre-exercise questionnaire so that they can ensure they have the most recent information about you and your health and comment on the form and that you are member of CFWA. You can access this form via the app. Once F45 receive the details, they can download your complimentary pass and members can book into the F45 LIVE classes.
To discuss further contact Chris Barry, Owner Operator on 0420 267 391 or cannington@f45training.com.au
School and Community Education
We are still offering education sessions for teachers, sports coaches, friends, family, and anyone else you can think of via Zoom video conferencing and in person where possible. Our sessions can be tailored to suit any need but small overview of some of the information that would be covered during an education session is:
What is CF
Symptoms of CF
Treatments
Supporting students with CF
Considerations specific to your child
We understand that many schools and community groups are reducing the number of meetings they host and may not be able to hold an education session. In this case, head over to CFSmart for free CF e-learning modules and heaps of resources.
If your child's class is ready to learn about germs and handwashing, please get in touch with Maggie at education@cfwa.org.au for more information.
Health Professional Education
CF education for health professionals can be provided face-to-face or via video conferencing using either Microsoft Teams or Zoom VC platforms .
We also have a Cystic Fibrosis for Health Professionals website. Click here to view the website. Please contact Sharon at nurse@cfwa.org.au for more information.
Member Events
Member events are back up and running. Upcoming events include Grandparents Morning Tea, Albany Outreach, Ladies High Tea, Sibs & Offspring Camp and a series of webinars. Check out our Upcoming Events page for more details.
Regional Support
We are excited that we have recommended outreach trips for 2020. If you need education or other support in your area get in contact with Kathryn on servicesmanager@cfwa.org.au or 08 6457 7333. Go to Regional Support for ways we can support you.
Fundraising
65 Roses Challenge
We've got lots of supporters in the community taking on 65 Roses Challenges this May and June to raise funds and awareness for people living with cystic fibrosis in WA. Visit our news page to see their challenges, like cycling 65km in May, or visit our Fundraising page for more ideas and resources to get started on your own challenge. If you have questions, please email our team on events@cfwa.org.au or phone 08 6457 7333.
Backyard Bootcamp
We're also rolling out a virtual boot camp event through July and August this year. Take part in 8 weeks of fitness challenges which you can do in the comfort of your own home or backyard and raise funds online to support the CF community.
More details to come soon! To stay in the loop and have a chance to give feedback, please join the new "CFWA Fundraising Community" Facebook group and sign up to our e-newsletter by emailing communications@cfwa.org.au.
Useful Resources and Links
COVID-19 Information
Coronavirus Australia App: Real time advice and information about COVID-19 through a free Government app. To download on your phone or tablet, search 'Coronavirus Australia' in the Apple

 App Store or on Google Play

The Australian Government has also created a WhatsApp group to disseminate information. This new service would allow the Government to directly provide Australians with health advice, updates on lockdown measures and other accurate and timely information. To activate the WhatsApp channel on your phone, visit aus.gov.au/whatsapp to download WhatsApp to your phone (if you don't already have the app) and launch the new feature.
COVID-19 National Health Plan (Health Department)
CF and COVID-19
Children
Mental Health
---